Beaches
Located on the shores of the beautiful Kennebecasis River, Rothesay has two supervised beaches that are open to the public during the summer months. K-Park and Renforth Beaches open for the 2023 season on Monday, June 26, 2023. Beaches will close for the season on Friday, August 25, 2023.
Lifeguards on Duty
K-Park Beach: Monday to Friday from 11:00AM until 5:00PM (excluding statutory holidays). KPark Beach will be CLOSED on Monday, July 3 and Monday, August 7, 2023.
Renforth Beach: Monday to Sunday from 11:00AM until 5:00PM.
Swimming Lessons
There will not be any Swimming Lessons offered during the Summer of 2023.
K-Park Beach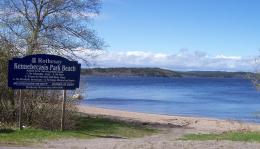 Renforth Beach