Beaches
Located on the shores of the beautiful Kennebecasis River, Rothesay has two supervised beaches that are open to the public during the summer months. K-Park and Renforth Beaches closed for the 2022 season on Friday, August 23, 2022.
Lifeguards on Duty
K-Park Beach: Monday to Friday from 11:00AM until 5:00PM (excluding statutory holidays).
Renforth Beach: Monday to Sunday from 11:00AM until 5:00PM.
Swimming Lessons 2022
Swimming Lessons will be offered at both KPark and Renforth Beaches, Session 1: July 11th – 22nd and Session 2: August 8th – 19th. For more information, click here. 
Registration Deadline: Wednesday, July 6, 2022 (spaces are limited)
Registration Form: Click here for the Registration Form (PDF).
Should you have any questions, please reach out to:
Keri Flood, Recreation & Communications Coordinator
Phone: 506-847-6398
Email: KeriFlood@rothesay.ca
K-Park Beach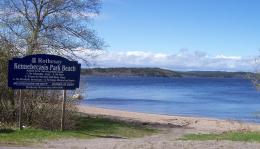 Renforth Beach