Message from the Mayor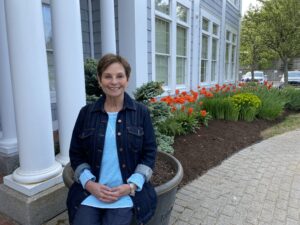 20 June, 2023
Hello Rothesay residents, and Happy Summer!
Like everyone else, I was thankful to see Spring come this year – it really lifts the spirits to see trees blooming, gardens coming up, ducks nesting, and more people outdoors! And I am particularly thankful that we again had a freshet without flooding.
The Town is busy. The new ball field at Wells opened in mid-May and is in full use. Beginning on June 26th the Playground Programs will run at all three locations: KPark, Wells, and Rothesay Park. On the same day, our two lifeguarded beaches will open. Concerts in the Common will run on Thursday evenings at 7pm, from July 6th until August 24th.
A special feature this summer – Rothesay has an Artist-in-Residence in the person of Rothesay resident Darlene Baker. You will see Darlene at many of our summer events, interacting with residents and discussing art in general. We are delighted that she will be producing some works showing life in Rothesay.
Two new venues will be opening in Town this Summer: the new building at Wells Recreation Park and the pickleball courts at Arthur Miller Fields. We are hopeful of both opening by mid-summer, watch for further details. Rothesay is hosting the Softball competition for the East Coast Games, the weekend of June 23rd. Games will be held at the Wells Softball Field, watch for the schedule, and get out and enjoy the competition!
So, we are ready for Summer: our parks and trails are tended, and our restaurant and bar patios are open. We have great opportunities to get out and get active, and to enjoy socializing over the food and drink of our wonderful establishments. But please, be mindful of the dry conditions of our forests – don't give fire a place to start. And be safe around the water – we don't want the Summer marred by accidents.
See you at Canada Day on the Rothesay Common: Saturday, July 1st, from 12-3 pm.
Dr. Nancy Grant
Mayor of Rothesay