Spring Freshet 2019 Info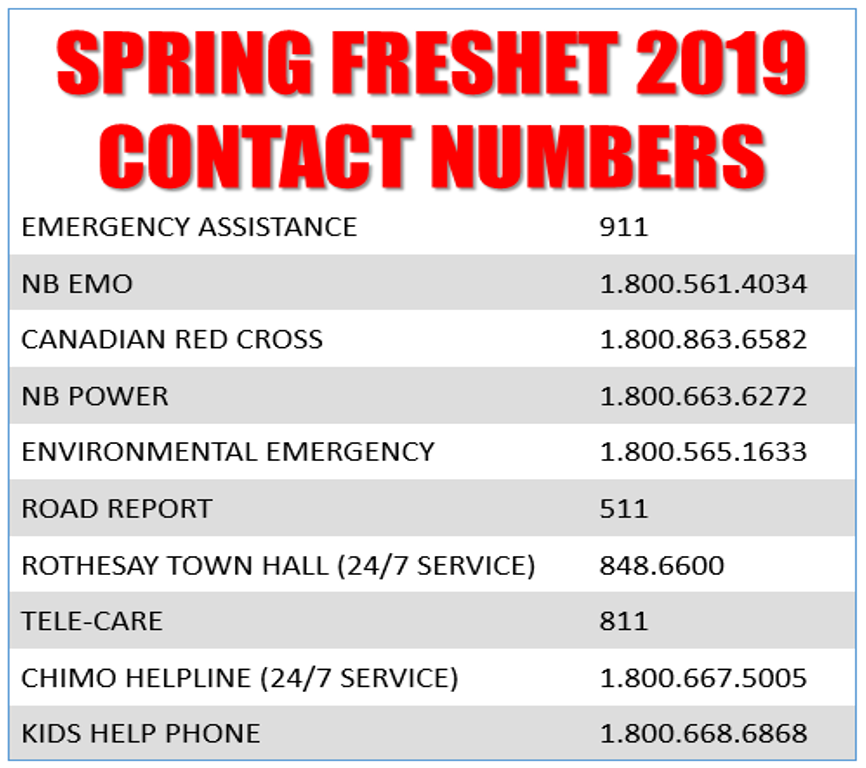 Residents affected by flooding can apply for disaster relief and increased advance payments: https://www2.gnb.ca/content/gnb/en/news/news_release.2019.05.0281.html
---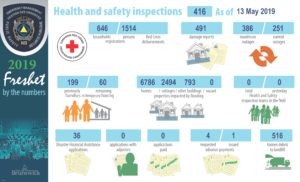 ---
Friday, May 3, 2019
2019 Spring Freshet
AFFECTED PROPERTY OWNERS are asked to report DAMAGES by calling 1-888-298-8555 or by registering online.
The Provincial Government has established a disaster financial assistance program. To be eligible for assistance under this fund you must be registered.
The sanitary sewer system is now fully functioning throughout the community. If you have not been using it for some time, we recommend you flush with clean water prior to use.
Bottled water and Canadian Red Cross cleanup kits are available at the Rothesay Arena (8 am to 10 pm daily)
Dumpsters have been placed in the flood-affected areas. Sandbags CANNOT be placed in dumpsters. Please place them curbside for pickup starting Tuesday, May 7.
All are reminded of the following:
Those involved in the cleanup should wear proper personal protective equipment to reduce health risks including:
Long sleeves and pants
Safety boots
Heavy duty gloves
Masks if inside basements
Wearing hats, applying sunscreen, staying hydrated, resting periodically and taking enough food
Crane Mountain Landfill
The Landfill will be extending normal operating hours for three weeks, starting Monday, May 6, 2019 to accommodate extra traffic from flood recovery Tipping fees will be waived for flood debris.
Private wells – testing
The provincial government is providing free bacterial testing of water for the owners of private wells who have been directly affected by flooding. Water sampling kits can be picked up at designated Service New Brunswick centres beginning May 7. Owners of private wells must wait 10 days after floodwaters have receded from their well before beginning the chlorination and sampling process.
Additional resources:
Check the provincial website for detailed information on flood recovery and clean up
---
Rothesay Spring Freshet 2019 Update – Mayor Grant, May 2/2019