Download the FREE APP Today to begin your next adventure!

If you like virtual treasure hunts, this game is for you! Discover a new way to experience your community. Explore 40 community gem locations within the municipalities of Rothesay, Quispamsis, Grand Bay-Westfield, and Saint John like never before with this immersive augmented reality gem hunt.
There are virtual checkpoints spread throughout your local and surrounding communities. Your goal is to visit each checkpoint and collect the virtual gems scattered there. Collect as many gems as you can, then use your gems to purchase virtual characters and accessories. Create a virtual scene with your items in augmented reality! Make sure to use #CommunityGemsHunt and share your pictures and stories with your friends on social media! Wondering how the app works? Click here for step by step instructions.
The application is completely free to download and use. Data is not required to use the app once it is downloaded to your device. Enjoy gem hunting!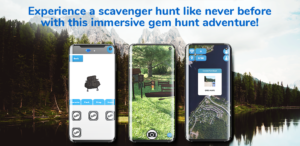 NOTE: For technical assistance with the app please reach out to: support@outwitadventures.com or hello@outwitadventures.com with as much details about the issue as possible. They will be able to further assist you with any issues you may be having with the app.