2019 Fundy Winterfest Activities in Rothesay
Join Rothesay and the other Greater Saint John Communities in celebrating our Canadian Winter from January 27th—February 28th with various outdoor & indoor activities. Visit the Fundy Winterfest Facebook page to find all the details.
FRIDAY, FEBRUARY 8th 7-9pm
CURLING & COCKTAILS at the Riverside Country Club
Curling & Cocktails is a FREE event for anyone interested in an instructional session where you will be taught the basics of curling along with the opportunity to play. After coming off the ice enjoy some snacks & a cash bar while socializing with other participants.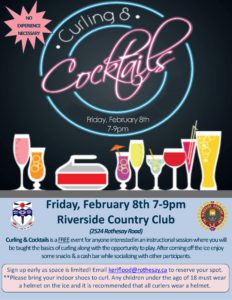 SATURDAY, FEBRUARY 9TH 2-4pm
WINTERFEST FAMILY DAY IN ROTHESAY at the Rothesay Common
Fundy Winterfest – Family Day in Rothesay is taking place on Saturday, February 9th from 2-4pm at the Rothesay Common and inside the Rothesay Park School cafeteria.
Stop by participate in all the FREE activities we have to offer:
• Horse & Trolley Rides with Rockwood Stables around the Rothesay Common
• Go for a skate on the Common with Frozen's Anna, Elsa & Kristoff! Magical Memories Princess Parties
• Try Snowshoeing with River & Trail Outdoor Company
• Dress warmly for Snowga (snow-yoga) with Yoga Haus @ 3pm
• Get your face painted by the talented Facepainting by Cathie Wilson
• Grab a balloon animal custom created by Mr. Zapz
• Stay warm and enjoy a cup of Hot Chocolate
**Bring some change to grab some food from the Kennebecasis Lion's Club BBQ
All activities will take place at the Rothesay Com mon & RPS Cafeteria. Parking available at Our Lady of Perpetual Help Church. In case of inclement weather please call 847-6398 for updates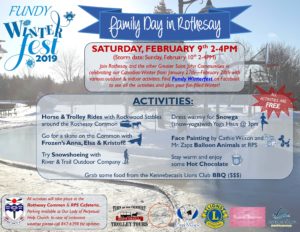 SATURDAY, FEBRUARY 9TH 7-8:30pm  – POSTPONED – due to the lack of snow we will be postponing this event. Date to be determined. 
MOONLIGHT SNOWSHOE & BONFIRE with River & Trail Outdoor Company
Join us Saturday, February 9th from 7-8:30pm for a night time snowshoeing adventure on the Wells Recreation Trails with River & Trail Outdoor Company.
This event is for people of all ages and no experience is necessary.
We encourage you to bring your own snowshoeing equipment.
If you would like to attend this event but don't have your own snowshoes please contact keriflood@rothesay.ca to reserve your pair.
There will be a bonfire and hot chocolate following the snowshoeing adventure in the parking lot by the tennis courts.