Rothesay HIVE – Open House June 1, 2023
June 1 @ 1:00 pm - 3:00 pm
Free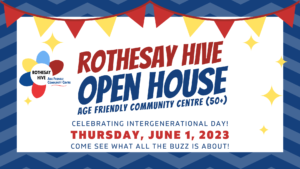 In celebration of Intergenerational Day the Rothesay Hive is hosting an OPEN HOUSE! Come see what all the buzz is about!
OPEN HOUSE | 1:00-3:00PM
This is your opportunity to come visit us and learn more about what the Rothesay Hive offers! Already a member? Bring a friend or family member to show them the Hive! Tea, Coffee, Sandwiches, and sweets will be provided.
ABOUT THE ROTHESAY HIVE | 70 Hampton Rd
The Rothesay Hive opened on May 23, 2019, as a gathering place to nurture the health and well-being of adults (50+) through a hub of activities that focus on socialization, connection, health and wellness, intergenerational programming, lifelong learning and outreach.
PARKING | 65 Hampton Rd
Spaces are very limited at the Town Hall parking lot due to business operations. If able, please park across the street. There is a well-marked crosswalk.
ACCESSIBILITY | Parking & Washrooms
Accessible parking spots are located in the Town Hall parking lot. The Rothesay Hive is an accessible facility.
Contact the Rothesay HIVE:
Email: KirstinDuffley@Rothesay.ca
Phone: 506-799-9240
Facebook Group: www.facebook.com/groups/RothesayHive
Website: www.rothesay.ca/recreation/rothesay-hive/