Healthy Eating & Slow Cooker Tips/Tricks with Kerri Robichaud
February 21 @ 7:00 pm - 8:00 pm
Come and listen to a presentation given by your Atlantic Superstore in-store dietitian. A guide for creating a healthy lifestyle and ways to prepare simple, nutritious, meals using a slow cookers.
This is a free event presented by Rothesay Recreation & Go Ahead Seniors. Everyone is welcome! Coffee and Tea provided by Java Moose.
—
Rothesay in partnership with Go Ahead Seniors present the 2019 Winter Speaker Series. These speaker sessions will take place every Thursday evening in February and March from 7-8pm at the Rothesay HIVE (70 Hampton Road). All of these events are free to the public and no registration is required. Java Moose will be providing tea and coffee for each speaker session. For more information call 847-6398.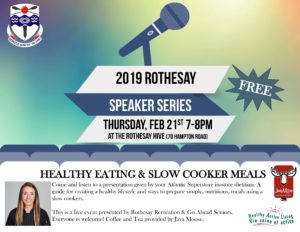 Related Events