Glow in the Dark Skating Party at the Rothesay Common
February 1 @ 6:00 pm - 9:00 pm
Free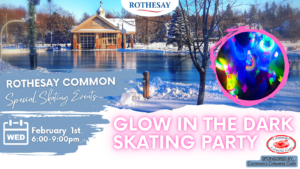 SPONSORED BY: Common's Crêperie Café
*Please note: due to a large amount of interest in this event we have decided to extend the hours to 6pm-9pm!
Join us for our Glow in the Dark Skating Party at the Rothesay Common event on Wednesday, February 1st from 6:00-9:00pm. This is a free, family friendly event. We will be serving hot chocolate so be sure to bring your mugs from home!
For more information regarding the special skating events taking place on the Rothesay Common this month click here
Fundy Winterfest events are proudly sponsored by Envision Saint John: The Regional Growth Agency, the Fundy Wellness Network, and 97.3 The Wave and Country 94 radio stations.
For more information on Fundy Winterfest activities in Rothesay visit:  www.rothesay.ca/fundy-winterfest-in-rothesay/