Concert in the Common: Thom Swift
August 25, 2022 @ 7:00 pm - 8:00 pm
Free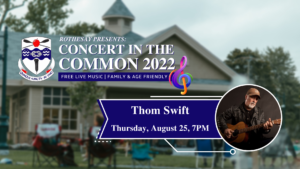 Join us Thursday, August 25 at 7pm for Thom Swift concert in the Common. Take your evening walk, bring your blanket/chair, and enjoy free outdoor music on the Rothesay Common stage. Click here for the Concert Series Line Up (PDF).
If the weather is inclement, the concerts will be held in the Rothesay Park School Cafeteria.
About the Performer: New Brunswick born, Thom Swift is a multi-award-winning folk-roots-blues singer, songwriter, storyteller, and finger-style guitarist. His voice is unique, captivating, and powerful and he is known widely as one of Atlantic Canada's finest musicians. As a solo artist and co-founder of award-winning New Brunswick folk-blues-jazz group, Hot Toddy, Thom has released fourteen albums and has performed at prestigious music venues and festivals worldwide.
Website: www.ThomSwift.com
Facebook: https://www.facebook.com/ThomSwiftRootsMusic
Twitter: @ThomSwift https://twitter.com/ThomSwift
Spotify: https://open.spotify.com/artist/61IY0h2lmBWjOHTeE7SJsN?autoplay=true
YouTube: https://www.youtube.com/channel/UCW6L3QHLtiCirty-pvN1Urg