Concert in the Common: Saint Mary's Band
September 1, 2022 @ 7:00 pm - 8:00 pm
Free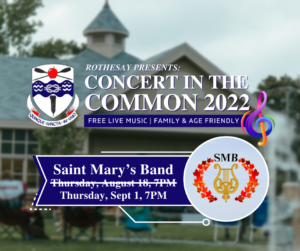 Join us Thursday, September 1st at 7pm for Saint Mary's Band concert in the Common. Take your evening walk, bring your blanket/chair, and enjoy free outdoor music on the Rothesay Common stage. Click here for the Concert Series Line Up (PDF).
If the weather is inclement, the concerts will be held in the Rothesay Park School Cafeteria.
SMB History
Saint Mary's Band (SMB) is a community based brass/reed band. Formed in 1903 as a youth outreach program of Saint Mary's Anglican Church, the band provided music services to Saint John until 1917 its members enlisted and went overseas as the Band of the 140th Battalion. In England, they became the first brass band of the Princess Patricia's Canadian Light Infantry.
Ages of the members range from mid-teens to late eighties and include a wide range of occupations, ethnic backgrounds and social diversity. The studio at 12 Brinley Street, Saint John, is wholly owned by the Band and is used as a rehearsal studio not only for Saint Mary's Band but also for various local ensembles including Symphony New Brunswick. Local public school music teachers also use it to host clinics for young musicians. The building was purchased in 1965 and was a Salvation Army Temple before the acquisition.
Saint Mary's Band operates on an annual balanced budget and must rely on revenue generated from its performances, grants from organizations such as the Saint John Foundation, and donations from private individuals to buy uniforms and music, and to repair instruments and maintain the Band studio.
Saint Mary's Band is a charitable organization. Our focus includes public music performances, promotion of music within the community, and the support of the Symphony New Brunswick and School Music Programs.
Website: https://saintmarysband.wordpress.com/
Facebook: https://www.facebook.com/SaintMarysBand/
Twitter: @StMarysBand https://twitter.com/StMarysBand