Concert in the Common: Easley / Stevenson / Arsenault
August 11, 2022 @ 7:00 pm - 8:00 pm
Free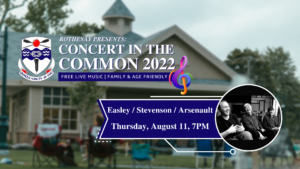 Join us Thursday, August 11 at 7pm for Easley / Stevenson / Arsenault concert in the Common. Take your evening walk, bring your blanket/chair, and enjoy free outdoor music on the Rothesay Common stage. Click here for the Concert Series Line Up (PDF).
If the weather is inclement, the concerts will be held in the Rothesay Park School Cafeteria.
About the Performers: Tom Easley, Bill Stevenson, and Geoff Arsenault are three of Canada's top musical talents. Their impressive credits as sidemen include a myriad of performances and recordings with a list of greats that reads like a 'who's who' of roots, blues, and jazz icons. They have, as individuals and together, been nominated for and received multiple East Coast Music Awards and Canadian Maple Blues Awards.
For years, the trio has shared an uncanny ability to complement each other's musicality. It was only a matter of time before they would create a stellar collection of songs that represent their writing and shared collaborative talents.
Spotify: https://open.spotify.com/artist/09o4FyAVzbCpqVfk2s4hPr
YouTube: https://www.youtube.com/channel/UC8JTC_JMjGaqxBXnYzvKHHw
Facebook: https://www.facebook.com/billstevensonmusic
https://www.facebook.com/easleybass/
https://www.facebook.com/halamagoochi