Concert in the Common: Chris Cummings
July 14, 2022 @ 7:00 pm - 8:00 pm
Free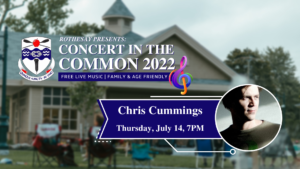 Join us Thursday, July 14 at 7pm for Chris Cummings concert in the Common. Take your evening walk, bring your blanket/chair, and enjoy free outdoor music on the Rothesay Common stage. Click here for the Concert Series Line Up (PDF).
If the weather is inclement, the concerts will be held in the Rothesay Park School Cafeteria.
About the Performer: Multiple CCMA & JUNO Award nominee Chris Cummings has been a successful singer and songwriter since 1994. With more than 2 decades in the business, he continues to prove his talent for pushing the boundaries of country music while managing to stay true to his roots.
He has achieved an impressive sixteen Top 20 radio singles in Canada with 9 of those songs charting in the Top 10 and two of the singles reaching all the way to number 1.
In addition to several chart-topping music videos on CMT, Chris has been nominated for 3 JUNO Awards, numerous Canadian Country Music Awards (CCMA), East Coast Music Awards (ECMA) and won the top prize for Outstanding New Artist at the RPM Big Country Music Awards. His many accomplishments have garnered him recognition in his home Province of New Brunswick where he was designated New Brunswick Ambassador by the Province's Premier in August 2008.
Facebook: https://www.facebook.com/singer.songwriter.ChrisCummings
Twitter: @_ChrisCummings_
Spotify: https://open.spotify.com/artist/0YmStfdKDDogHs80PfUWyv
YouTube: https://www.youtube.com/channel/UC_aZ6aHvu7OaR-rs7dLt_ZQ