Concert in the Common: Cathy Hutch
August 4, 2022 @ 7:00 pm - 8:00 pm
Free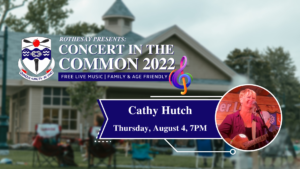 Join us Thursday, August 4 at 7pm for Cathy Hutch concert in the Common. Take your evening walk, bring your blanket/chair, and enjoy free outdoor music on the Rothesay Common stage. Click here for the Concert Series Line Up (PDF).
If the weather is inclement, the concerts will be held in the Rothesay Park School Cafeteria.
About the Performer: Cathy is an award-winning NB singer/songwriter who has released two critically acclaimed albums, is currently working on her third, has performed three times at the ECMA's (as recently as this year) and will be embarking on her third coast to coast, Canada-wide tour this fall.  Her setlist contains an eclectic blend of classic rock, blues, folk, and country originals and covers, delivered with passion and finesse!
Website: https://www.cathyhutch.com/
Facebook: https://www.facebook.com/CathyHutchMusic/
Twitter: @CathyHutch https://twitter.com/CathyHutch
Spotify: https://open.spotify.com/artist/5s2fpC8yJhbH9G14lDeMys
YouTube: https://www.youtube.com/channel/UCUm7Tx3FSY79bR-DwDIzFnQ