BBBS – Stuff the Bus – Clothing & Household Donation Drive
April 9, 2022 @ 10:00 am - 2:00 pm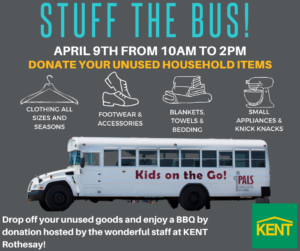 Big Brothers Big Sisters of Saint John
will be at the Kent in Rothesay collecting your unwanted goods such as clothes, linens, small household items, and much more! We will be there from 10am to 2pm and Kent will be hosting a BBQ for the public.
Big thank you to our sponsors Kent Rothesay and PALS – Partners Assisting Local Schools
Donate your goods to Big Brothers Big Sisters and support youth mentoring in your local community! We start collection at our uptown office April 1st and will have community drop off locations that will be announced at a later date!
CLOTHING
Men's, women's and children's clothes, coats, shoes, scarves, handbags, wallets, fashion accessories, ties, belts, backpacks, etc.
HOUSEHOLD TEXTILES
Bedding, comforters, blankets, sheets, towels, linen, tablecloths, curtains, pillows, etc.
SMALL HOUSEHOLD GOODS
Kitchen items (such as pots/pans, dishes, silverware, glasses, serving pieces and hand-held appliances), home decorative items, knick-knacks, toys, games, and small electronics.
PACKING INSTRUCTIONS
Please use bags for clothes and textiles and tightly packed boxes for small household goods. All items must be clean and in sellable condition. Donations will not be accepted otherwise.
Future dates at Kent stores:
Sat, April 30th – East Side
Sat, May 14th – West Side
Call or email for drop off locations and details near you!
506-635-1145
brother@nb.aibn.com